What is 'Sub-Fusc', how do I wear it and what do I need?
'Sub-Fusc' comes from the Latin meaning of 'Dark/Dusky Colour' and is the dark formal clothing worn for examinations and formal occasions at some universities, including Oxford University. It refers to the clothing worn underneath both the Undergraduate & Postgraduate gowns.
What should I wear?
Additionally, you will need the appropriate Gown, we do have packages which include the Gown, Headwear & Neckwear. You may already have the other items such as a White Blouse/Shirt & Suit/Trousers/Skirt, but you can also order these from us as well at a discounted price when you buy the gown package. If you prefer you can also return our Varsity Gown Brochure 2020 to us by email or post.
When will I wear it?
Matriculation
Exams
Formal Hall
Degree ceremony
FAQ's
The gowns are fitted by length only, this is why we ask for your height when ordering.
Undergraduate gowns should be jacket length and as a general rule, no longer than your fingertips. Graduate gowns should finish at the knee. Both gowns are worn open at the front, as seen in the picture below.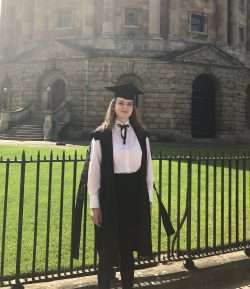 The gowns for Sub-Fusc are quite simple, Undergraduate (also known as a Commoner's gown) for Undergraduate Students and Postgraduate gowns or Postgraduate students.
How long should my skirt be?
There is no specific length for you skirt, however we would recommend it to be around/just about knee length.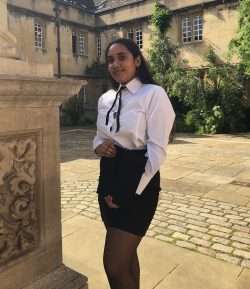 My suit has a pin stripe, is that ok?
Yes, that's absolutely fine, as long as it's dark – it can be black, dark grey etc.
Can I wear a shirt without a collar?
No, you need a collar to be able to wear your ribbon/bow tie.
How do I tie a ribbon/bow tie?
You can tie your ribbon in a bow (like a shoe lace) or a knot so it hangs down. As for bow ties, the ones in the packages are pre-tied and adjustable so they are nice and easy. If you would like a self-tie bow, we also sell these and they include instructions however we recommend you learn to do this before the morning of your exam/ceremony.
What size mortar board do I need?
If you are ordering online, you will need to measure your head and select the size. Measure around the circumference of your head just above your ears. Don't worry if your mortar board doesn't fit when you receive it, you can pop into the shop and swap it over when you arrive in Oxford.
If you have any other queries please feel free to contact us by email or phone, we will be more than happy to advise you and answer all of your questions. Email: shop@varsityshop.co.uk or call us on 01865 244000.
You can hire Sub-Fusc, but as you will need it for so many different occasions, it is far more economical and cost effective to buy everything to start off with.